Better Brain,
Better Life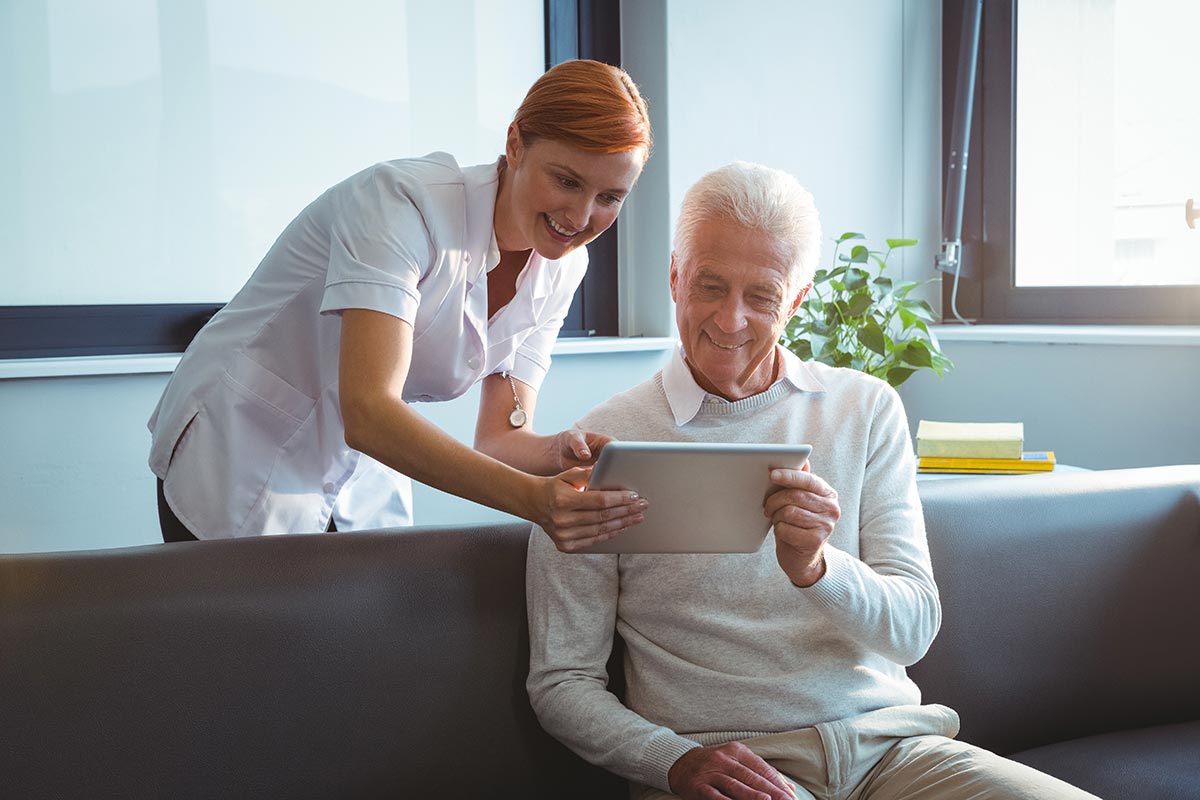 For Healthcare Professionals
Evidence-based cognitive rehabilitation
For brain disorders and mental illness
on an efficient and motivating
digital therapeutics platform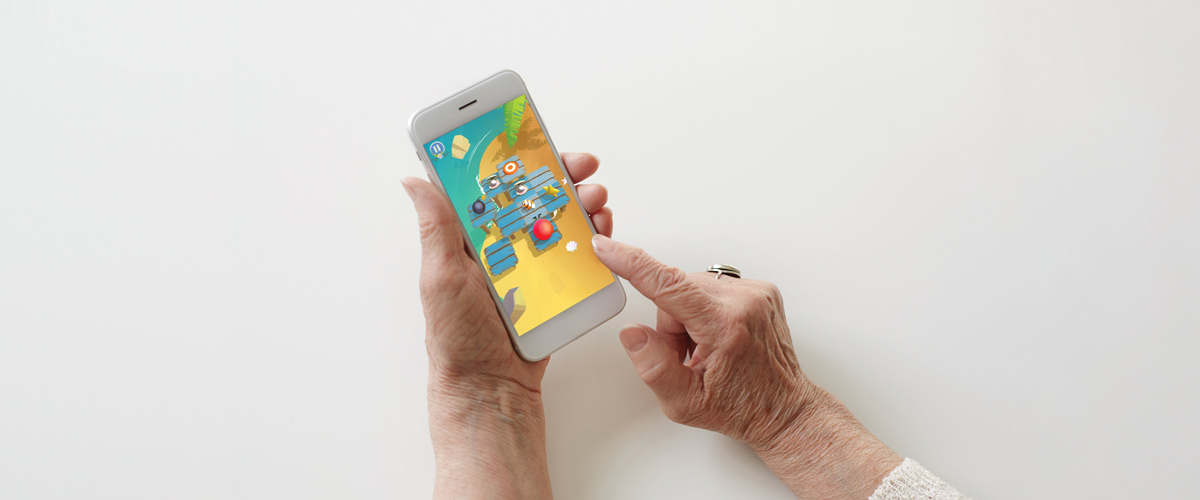 Brain + RECOVER, a gamified rehabilitation platform
Retrain fundamental cognitive functions
Attention & short-term memory
Working memory
Planning & problem solving
Long-term memory & language
+ Diseases affecting the brain will be the leading cause of death in the 21st century
Within a few decades, brain diseases and disorders, such as Alzheimer's and depression, are predicted to become the leading cause of death and highest contributor to the economic burden of disease.
These diseases cause cognitive impairment and have severe consequences on the quality of life, daily life abilities, independence, social life, mood, and mental resilience.
Brain + has developed a digital tool, RECOVER, to train and rehabilitate impaired cognitive functions, regardless of the diagnosis. The result is the recovery of a person's independence, daily life abilities, self-reliance, and quality of life.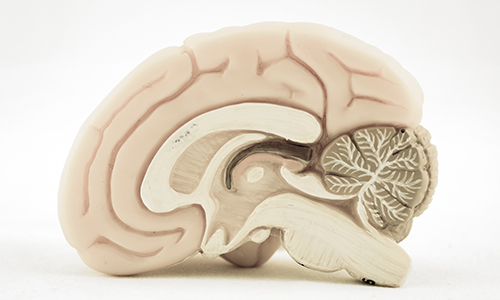 + Brain+ RECOVER is used for*:
Acquired brain injury
+ Stroke
+ Traumatic brain injury
Mental health
+ Depression
+ Stress
+ Anxiety
+ Schizophrenia
Healthy aging
+ Healthy elderly population
Neurodegenerative disorders
+ Mild cognitive impairment
+ Subjective cognitive impairment
+ Parkinson's disease (early stages)
+ Alzheimer's disease (mild)
*Brain+ RECOVER can be applied to any cognitive deficit, regardless of the diagnosis or cause.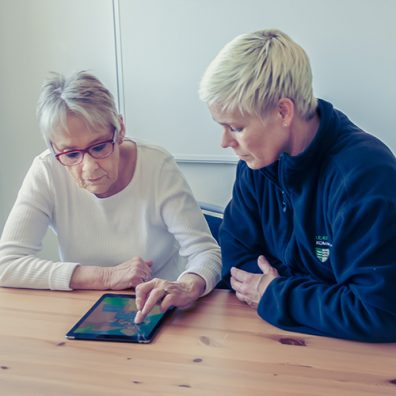 "Our citizens experience increased autonomy, confidence and a higher level of participation."
– Signe W. Jeppesen, Physiotherapist and co-responsible for the development and implementation of Welfare & Health technology in Lejre Municipality, Denmark
+ Every brain is unique,
so Brain+ RECOVER is adaptable
Brain + Recover is a flexible evidence-based tool that automatically adapts to a user's unique needs.
The user's cognitive capabilities are assessed upon the initial session and, based on that assessment,  a tailor-made program is created for them. It consists of 2 complementary ingredients:
1. NeuroGames
Scientifically designed cognitive exercises that stimulate neuroplastic adaptation and recovery. The unique Brain + method makes training more personalized, precise, intense and effective.
2. Behavioral therapy and learning
The virtual Brain Coach helps the user develop brain-healthy habits and implement them in everyday life. The program also includes metacognitive therapy, mindfulness and other guided exercises.
+ The NeuroGames exercise a selection of cognitive domains within these 4 main areas:
Attention and short-term memory
+ Attention Island: general visual attention and short-term memory
+ Ocean of Attention: visual attention capacity and short-term memory
+ Speed perception: visual perception speed
+ Eye for detail: visual precision and attention to detail
Planning and problem solving
+ Path Finder: planning and problem solving
Working memory
+ Memory Lane: general work memory and task switching
+ Bulky codes, Highway1, Letters Lane: working memory capacity
+ Grace under pressure: ability to focus under pressure, task switching speed
+ Speedy memory: encoding speed
Long-term memory and language
+ Remember me?: Semantic and episodic memory, memorization, word mobilization, memo techniques
+ Cocktail party: memory capacity, memo techniques
+ Cognitive rehabilitation is hard work
– so, let's make it motivating
Brain + RECOVER is a gamified neuro-rehabilitation platform, designed to create an immersive and captivating experience which increases user focus and effect, and generates high adherence rates.
"I was surprised that it actually worked. 30 to 40 minutes a day have given me a lot."
– Anonymous patient
"If your time is scarce and you only have moments to play during the day, I recommend this app."
– Yael Braender, Android user
95% complete the prescribed 12 weeks
of rehabilitation with our daily training.
+ Increases compliance and training time through self-training and autonomy
The Brain + RECOVER app is designed specifically for self-training and is ideal for home training. It allows the user to take more control, gain more insight, and train anytime, anywhere.
This may mean reduced support needs, faster return to the labor market, less risk of relapse, fewer doctor/hospital visits and fewer health expenses for eg. medicine.
"My confidence has grown, and I believe that I can actually get better. I'm thrilled. This is really a victory for me."
– Frode
"I had a brain hemorrhage a year ago and this app actually helps better than all other tools."
"My boss told me: 'You are back in control. You are back'."
"When I am with other people, I am not as easily distracted as before."
"I do not use shopping lists and reminders to the same extent anymore."
"When driving to my summerhouse I am not half as mentally exhausted as I used to be."
"I play chess at a relatively high level, and I won in my division. I've never done that before."
+ Save time, while providing more rehabilitation time for each patient
Autonomous self-training and the possibilities of training at home mean more active therapeutic time for each patient. The time health care professionals save this way can then be used for other activities, like in-depth dialogues with their patients about their insights and the results of their activities, based on accurate data from Pro Insights.
"The self-training aspect means we can offer rehabilitation and prevention options to a greater number of citizens without increased pressure on the staff. Our patients are very pleased with having this extra opportunity to optimize their cognitive training at home."
– Signe W. Jeppesen, Physiotherapist and co-responsible for the development and implementation of Welfare & Health technology in Lejre Municipality, Denmark
+ Pro-Insights provides the caregiver with accurate insight into cognitive abilities and challenges
Pro-Insights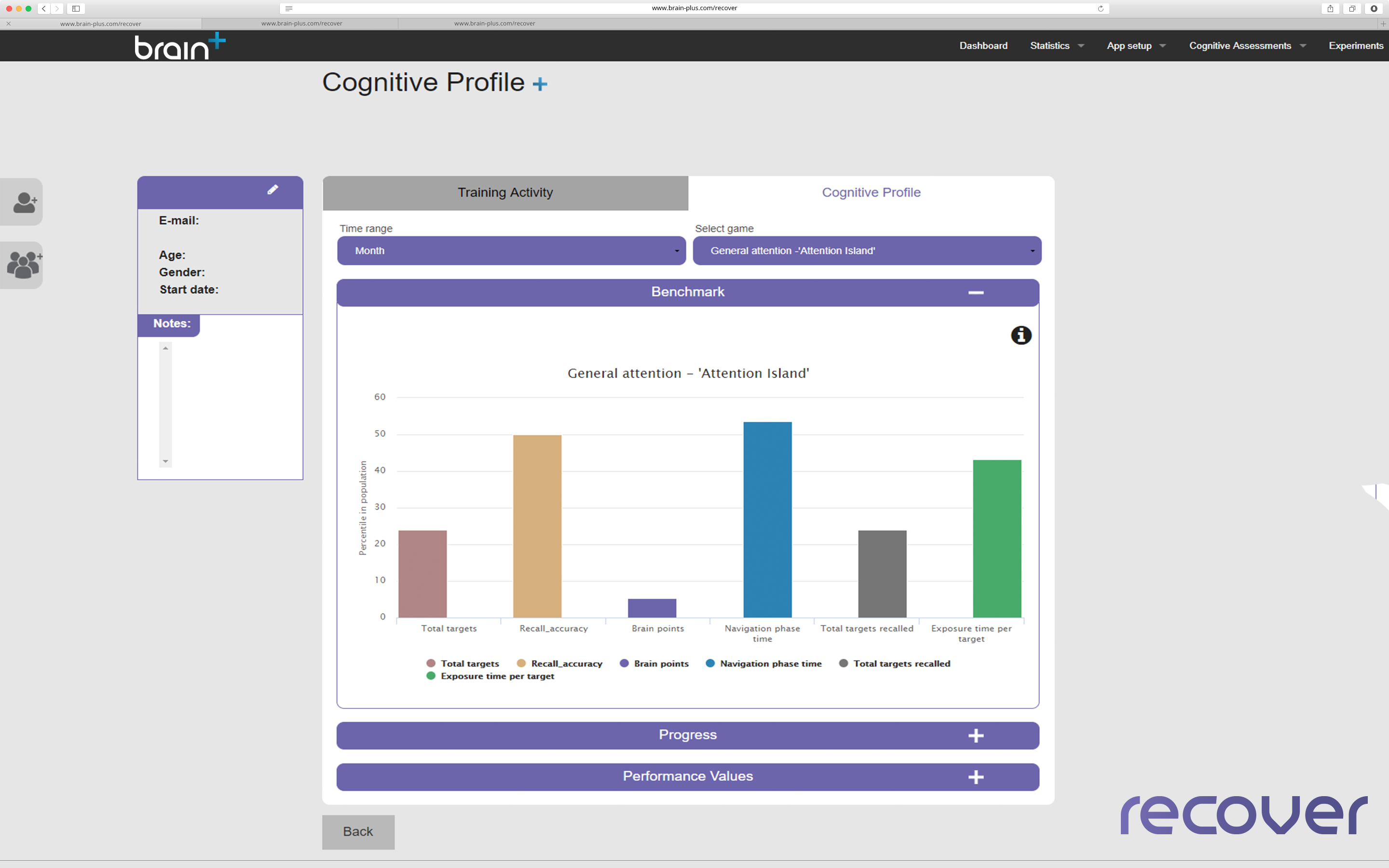 Pro-Insights is a web tool for clinicians and professionals which provides a user-friendly overview of patients training with the Brain + RECOVER app.
Data accessible via Pro Insights include:
+ Training activity and adherence
+ Development and improvement regarding cognitive abilities
+ Detailed cognitive profiles, strengths and weaknesses, measured against the norm.
+ Brain + RECOVER is tested and developed with leading researchers and clinicians
Brain + has 13 scientific and clinical studies in Europe and the US. 7 of them are randomized, controlled clinical trials
Indications: Alzheimer's disease, Parkinson's disease, depression, stroke, brain trauma, mild cognitive impairment, chronic pain, cancer.
We are happy to send you more information about Brain+ RECOVER and Pro-Insishgts. We also offer advise on how our solutions can contribute to your current rehabilitation efforts.