 Brain + RECOVER is a digital platform and app for neurorehabilitation and an innovative meeting of neuroscience, computer games, machine learning, and behavioral psychology.
Note: Recover is not yet available for download outside of Denmark. Provide your email here and be notified when Recover becomes available internationally:
+ Improving cognitive functions and patient outcomes
Brain+TM creates apps that are digital cognitive remediation centers that engage patients in intense and long term motivating cognitive exercise regimes, with therapist support or as self-care. The cognitive training applies the Brain+ training methodology and technology.
+ Highly motivating and immersive training experience
Patient motivation is one of the key levers in creating effective recovery, lasting neuroplastic change and cognitive improvements. Our scientists and game designers work closely to make a truly motivating training experience, ensuring higher patient participation and adherence for increased recovery rates and efficacy.
+ High intensity, specificity & adaptability
The Brain+ training method is a unique approach to challenging the cognitive functions of the brain, that mimics the challenges the brain faces in normal life, and allows a much higher flexibility, variety, and intensity of the challenge than existing methods. The Brain+ method was developed over 5 years with leading Danish neuroscientists.
+ Personalized tailored training plans
Patients are guided on their training journey with tailored training plans that provide a structured and powerful mix of direct cognitive training, improved mental techniques and brain healthy daily habits.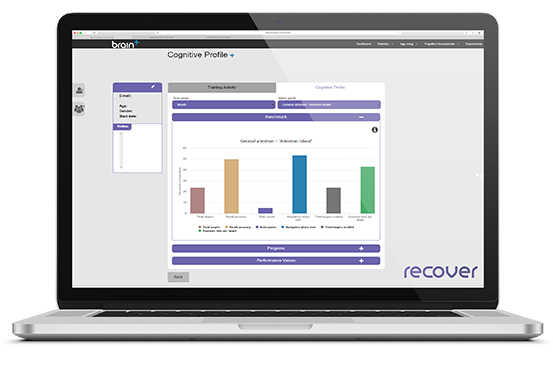 + Advanced analysis of a patient's cognitive profile
Both the patient and therapist can access detailed data on the patient's cognitive performance and development, and benchmark to population base lines. This is both enlightening and motivating, and establishes a data driven foundation for patient-therapist interaction.
+ Prevention and rehabilitation
Brain health is universally important. Whether the brain is in a healthy state or suffers from cognitive impairment, our apps, cognitive exercises and unique Brain+TM training methodology are designed to help anyone achieve a healthier and stronger brain, and to slow, prevent or reverse mental decline and impairment.
Brain+ is committed to developing the best remediation and rehabilitation tools on the market.
If you are interested and want to learn more about our products:
Contact us at recover@brain-plus.com