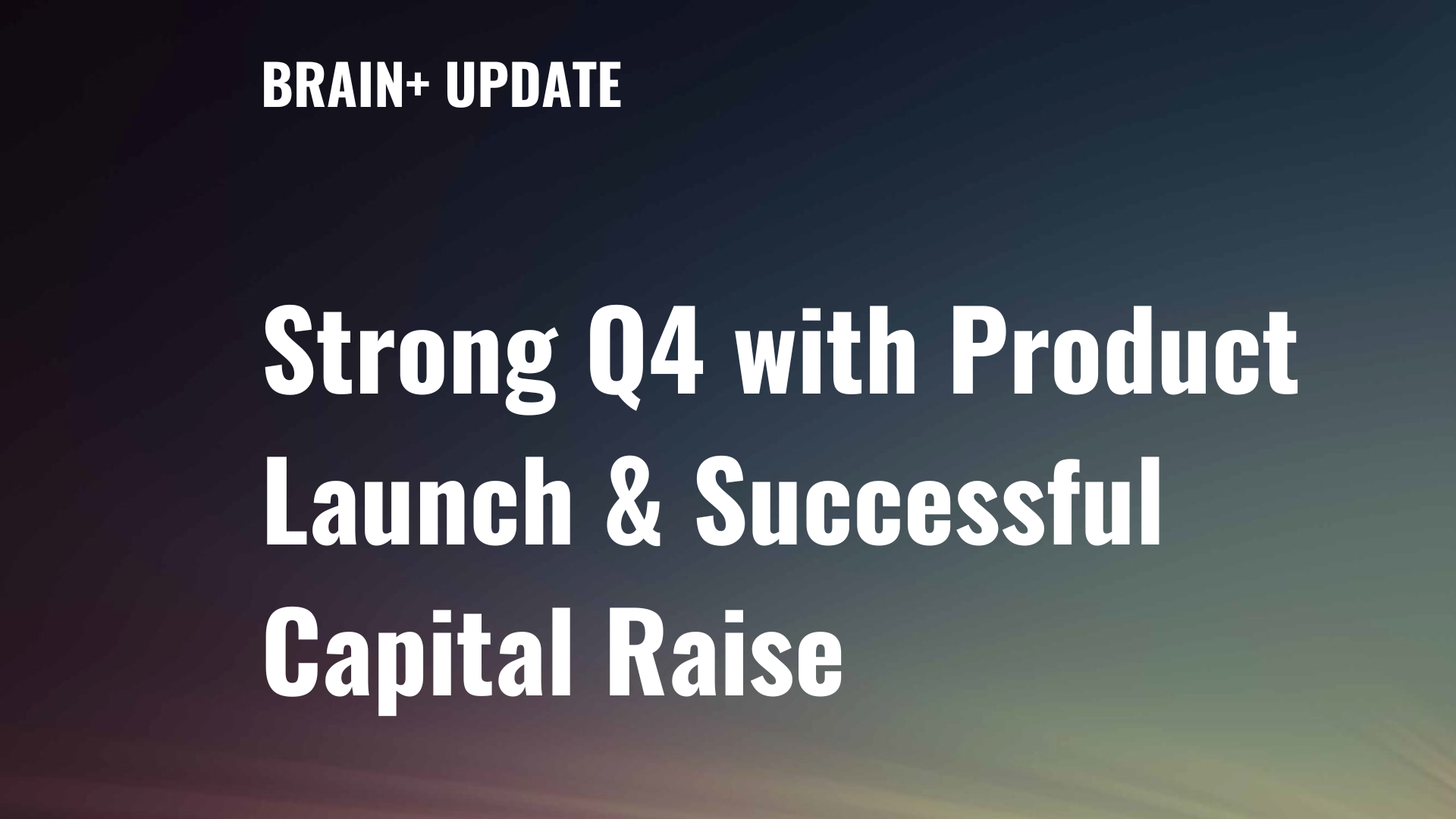 Brain+ announces Investor Webinar
following strong Q4 with product launch and succesful capital raise
Brain+ invites you to an investor webinar after a strong quarter with commercial introduction of its first dementia product, a successful capital raise, and several supportive market news announcements
Highlights of Q4 2022
Successfully raised 6.4 million DKK in new capital from 82% warrant exercise
Advanced the first dementia product, CST-Therapist Companion towards commercialization

Started the introduction of Danish version to municipal dementia clinics in Denmark
Started a 3-month commercial pilot project with the DaneAge association (Ældre Sagen), covering 930.000 members
Met milestone in the RoX Health AG partnership, finalizing a fully translated German product version for planned market introduction in 2023
Finalized fully translated product for the United Kingdom for cultural adaption in collaboration with the inventor of CST from the University College London
Implemented ISO 13485-compliant Quality Management System for Medical Devices
Brain+ business potential validated by important dementia therapy and DTx market news

Support for CST-based dementia therapy in both World Alzheimer's Report 2022 and WHO report
Positive phase 3 results for Alzheimer's drug, Lecanemab, positive news for Brain+
Big pharma showing increased interest for digital products as drug companions or combination treatments
Click Therapeutics closes a 2nd $460 million royalty deal with Boehringer-Ingelheim for DTx product in schizophrenia
Analyst Group Equity Research Report valued Brain+at DKK 4.1 per share in the base case
Invitation to Brain+ Q4 investor webinar
Brain+ hosts an investor webinar on December 22, 2022, from 16:30 to 17:00 CET to update on the company's commercial activities and plans, and give a status on product development, pipeline projects, and partnering activities.
Sign up for the investor webinar here: https://tinyurl.com/3jnnn8uf.
Quarterly highlights detailed
Successfully raised 6.4 million DKK in new capital from 82% warrant exercise
Under challenging market conditions, Brain+ facilitated a successful execution of its so-called TO1 instrument, which are warrants that were part of the IPO-unit offering, and which could be exercised in the last two weeks of October 2022. 82% of the warrants were exercised, which is in the very high end of warrant exercises in the current market, where the average is close to 50% exercise. This is a testament to the continued strong interest in Brain+ A/S by shareholders.
Advanced the first dementia product, CST-Therapist Companion towards commercialization
Started the introduction of Danish version to municipal dementia clinics in Denmark
The introduction of the CST-Therapist Companion in November 2022 on the Danish market has been met with great interest by Danish municipalities, who are the primary target customers for this product. The response from the potential customer groups is positive, and there are ongoing customer dialogues with numerous Danish municipalities. The initial sales outreach focuses on the 30+ municipalities that are already offering regular CST to their citizens and who can immediately benefit from the digital CST-Therapist Companion. Some municipalities are aiming to fast-track their buying process, where normal buying cycles are 6-12 months. Adoption of CST in Denmark is happening rapidly and there is a 6-month waiting time to train new CST therapists, meaning that the market will be steadily growing as new CST therapists are continuously educated. The product introduction has also been received with positive interest from strategic pharma partners active in the Alzheimer's field.
Started 3 months commercial pilot project with the DaneAge association (Ældre Sagen), covering 930.000 members
Brain+ began a commercial pilot project with the DaneAge (Ældre Sagen) to test the use of the Brain+ CST-Therapist Companion. 20 volunteers, who regularly are helping the association's members with dementia, have received tablets with Brain+ CST Therapist Companion software and will over the following 3 months be using this in their visits to the homes of the association's members. At each visit, the volunteer will use the Brian+ CST-Therapist Companion to facilitate the structured CST conversations and activities. Many of the association's 930.000 members have dementia or Mild Cognitive Impairment. Roughly 90.000 people in Denmark live with dementia, and 3-4 times as many with Mild Cognitive Impairment.
Met milestone in the Rox Health AG partnership, finalizing a fully translated German product version for planned market introduction in 2023
Brain+ partnered with Rox Health, the digital venture builder of Roche Pharma Germany.
In December 2021 with the objective to co-develop and commercialize Brain+'s portfolio of digital Cognitive Stimulation Therapy (CST) products in Germany. RoX Health and Brain+ agreed to three contractual milestones to support this goal. The first milestone was the delivery and approval by RoX Health of a full German version of the CST-Therapist Companion product which was tied to a smaller milestone payment. The next milestone will be the product launch in the German market, which is planned for Q2 2023, thus unlocking sales in Germany. The German market is estimated to represent a €400 million market potential for digital dementia therapeutics. The third milestone is sales to the first three customers. The Brain+ commercial team has in collaboration with the German sales partner, CoopMed, and the Danish-German-Care-Alliance been visiting and discussing the Brain+ dementia products with major players and key opinion leaders in dementia care in Germany, including major health services, such as Malteser and Johanitter. The reception of the CST-Therapist Companion has been very positive, and the current goal is to first establish local market pilots in the first half of 2022. These pilots will bring hands-on experience with the use and implementation of the CST-Therapist Companion in the German care pathways and can be the keys to sales with the pilot partner organizations.
Finalized fully translated product for the United Kingdom for cultural adaption in collaboration with the inventor of CST from the University College London
A product development project with the University College London (UCL) and the CST expert, Esther Hui, has been successfully completed. The goal was a full translation of the CST-Therapist Companion to English, preparing the product for the United Kingdom. A next step for the UK market is cultural adaptation and doing initial local pilots to get local data and identify a good fit into the UK NHS (National Health Services) patient pathway. Cognitive Stimulation Therapy was invented at UCL by Professor Aimee Spector, and Esther Hui is part of Professor Spector's research team.
The Texas Medical Center (TMC) in collaboration with the Danish Trade Council has created a global life science BioBridge to advance commercial and clinical innovation and to enable research collaborations and knowledge transfers. As part of showcasing cutting-edge Danish life science companies, Brain+ was selected to be a TMC-Denmark BioBridge Partner and is featured in the new TMC-Denmark Biobridge e-book (Link here, See page 26. For Brain+). This brings visibility to Brain+ not only at TMC, but in all of the US, as TMC is a front-runner in digital health in the US. The United States (US) is a key future market for Brain+, and early brand building and exploration is now ongoing
Implemented ISO 13485-compliant Quality Management System for Medical Devices
Brain+ has successfully completed the implementation of an ISO 13485-compliant Quality Management System (QMS). Such a system helps to set standards to ensure stringent processes throughout every step of a medical device product's life cycle and thus to maintain a high product quality. This milestone is therefore an important step on Brain+' path toward becoming a mature supplier of software-based medical devices for Alzheimer's disease. The QMS is implemented as an eQMS using the Greenlight Guru platform, automating and standardizing the quality processes. Having a standardized Quality Management System in place is a key requirement for the development and commercialization of compliant digital therapeutics. Meeting this milestone supports the company's objective to attract large pharma partnerships and ensure product reimbursement at scale.
Brain+ business potential validated by important dementia therapy and DTx market news
Support for CST-based dementia therapy in both World Alzheimer's Report 2022 and WHO report
Cognitive Stimulation Therapy (CST) is on the way to becoming a global standard for non-pharmacological treatment. CST has now been highlighted in two critical policy papers this year, first in the World Alzheimer's Report 2022, and latest in the World Health Organization's report, 'A blueprint for dementia research'. This is an important recognition of the clinical relevance and long-term commercial applicability of Brain+ digital dementia offerings, as Brain+ is the pioneer in digitalizing CST, and is doing so with principal CST experts in the world. These policy recommendations are likely also to provide support for faster adoption of CST in general, as policymakers and other stakeholders adhere to the recommendations and objectives stated in the reports. The expected accelerated adoption of CST in clinical practice on a global scale that is resulting from this strong policy support will benefit the growth of Brain+ CST product sales. Conversely, Brain+ is also supporting the accelerated adoption with its products, which makes the adoption of CST easier and more scalable.
World Alzheimer's Report 2022, Alzheimer's Disease International, recommendations, p. 29

Nonpharmacological interventions, such as Cognitive Stimulation Therapy (CST) and Cognitive Rehabilitation, should be further researched and implemented as possible cost-effective and impactful interventions globally.
Positive phase 3 results for Alzheimer's drug, Lecanemab, positive news for Brain+
Pharma companies Eisai and Biogen have announced positive top-line results on their Phase III trial of lecanemab, an antibody that targets amyloid beta aggregates in the brain, and showed 27% slower cognitive and functional decline in participants receiving Lecanemab.
The expected effects for the Alzheimer's Disease (AD) space and for Digital Therapeutics (DTx) companies operating in AD, like Brain+, are the following:
1) People living with Alzheimer's will get a new treatment option
2) Pharma companies will invest more heavily in the space (Brain+ is a relevant target)
3) Pharma companies will look for and invest more in DTx companion products (Brain+ CST is relevant)
4)    Synergistic combination treatments of drugs + DTx will begin to take off in the space (CST is relevant and has already shown synergy effects with existing Alzheimer's drugs)
5) More money and resources will flow into early detection and diagnosis of AD, as the treatment is relevant already at the Mild Cognitive Impairment (MCI) stage (relevant for Brain+ product plans in MCI)
Click Therapeutics closes a 2nd $460 million royalty deal with Boehringer-Ingelheim for DTx product in schizophrenia
This deal is a result of a larger trend, in which digital products as drug companions or combination treatments are receiving increased interest from pharma companies. In the deal Click Therapeutics will receive an upfront payment, funding for research and development activities as well as clinical, regulatory, and commercial milestone payments up to a total of USD 460 million, plus tiered royalties. This structure is well known from classic biopharma licensing deals and represents the type of deal that Brain+ has as one of its objectives.
Analyst Group Equity Research Report valued Brain+ at DKK 4.1 per share in the base case
External analysts (Swedish-based Analyst Group) have analyzed Brain+ A/S, and concluded that the share, in their base case, should be valued 115% higher (DKK 4.1) than where it is today (DKK 1.9). The report's modeling chooses to only include sales potential from Denmark and Germany and the Cognitive Stimulation Therapy (CST) product line, and thus leaves room for a large future unaccounted-for upside potential from additional markets, products beyond CST, and strategic partnership deals. The report can be found here.