In the upcoming weeks we will be bringing a host of improvements to the Brain+ app for your enjoyment. We are excited to announce that something entirely new and exciting will come to all current Brain+ users. In addition, we are very pleased to be rolling out the app in all new territory. Here's a detailed look at what you can expect:
Brand New and Completely Overhauled Design
On July 1, all Brain+ users will be able to download a fresh and clean design, which will allow you to navigate smoothly through the app and make brain training an even more delightful experience. The app will receive a complete overhaul, improving all sections for your enjoyment. The most significant change is a new visual brand and design identity and a switch from our old orange and navy colours to a more health- and wellness-oriented green and sky blue look. The new colours will be present in all areas of the app as well as in our logo.  We're doing this to further emphasize our focus on improving your brain fitness and everyday well-being.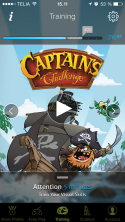 In addition to the colour change, we have been working a lot on presenting the purpose of brain training better, making it clearer to you how the exercises improve on your cognitive skills. This includes the addition of new guides to get new users through their training in the best way possible, which have made the app much easier to use. Furthermore, we have been working on the synchronization between devices, so that you should be able to login and switch between different devices without encountering any issues. We have also decided to change the name of the system for tracking your progress, the Cognitive Performance Index or 'CPI'. This system will be known by the more easily understandable name BrainPoints or 'BP'. The system and the algorithm behind it remains the same, so you will still be able to accurately track your progress as you train your brain. Here's the complete list of design updates that will arrive on July 1:
– New brand and design identity
– New smooth and exciting Training and Free Play menus.
– Improved synchronization between devices.
– Colour scheme changes from orange/navy to green/sky blue.
– CPI' is now called BrainPoints or 'BP'.
– Cleaner and more easily understandable Brain Profile.
– Cleaner and easy-to-use Science section.
– New helpful guides and tutorials for new users.
Get Your Subscription Now Before the Price Increases
As we expand, we also plan to change the price of a subscription, so that we are able to bring you even more great content. Subscription prices will become as follows: 1-month subscription: 3.99 USD 3-month subscription: 8.99 USD 12-month subscription: 24.99 USD However, before we increase the prices, you will still be able to buy a subscription for the current prices. Additionally, if you buy for example three 12-month subscriptions, these will of course add up to give you 36 months of subscription for the old prices. So if you've been meaning to get a subscription, you should go and get it
now!
PLUS! benefits
Premium users will be called 
PLUS!
 users from the next update. 
PLUS!
 users have unlimited training time and unrestricted access to all games and content.
PLUS!
 users also have the benefit of getting unrestricted access to all future content updates.
Here is a taste of what is to come:
New brain training games
– We have several brain training games on the drawing board that will target additional brain functions in fun, interesting and motivating ways.
Brain training progression systems
– As the app increases in quality and size, we will add systems that will help you progress your training and take your brain ability to an even higher level.
Challenge systems
– Fun games are more fun when you can challenge others. We have plans to expand on the challenge system already in place, to have more functionalities and easier to use.
Player reward systems
– A workout is more fun when there is a reward. Naturally, the training is it's own reward, but there is no reason we can't celebrate your achievements as well! That's what we have in store for you in July and onwards. We will continue to build and improve upon the app, bringing a plethora of content and features straight to your iPad or iPhone so you can train your brain and stay sharp.