Empower Your Employees
In the past decade, science has taken a massive leap in the understanding of our brain and its extraordinary ability to develop, heal and learn throughout life. Brain+ has collected the most powerful findings in a digital brain training product, Evolution, and made it a part of a mental development- and coaching course for your employees.
Now you and your employees get the opportunity to develop your mental skills, and thereby increase productivity in the company and improve your general well-being and quality of life.
Improvement in focus, productivity and performance
Fewer sick days along with costs associated with these
Scientific studies have validated the used techniques
Objective: Teach powerful brain techniques to 350 employees
Topics: Focus, Productivity, Brain Potential, Effective habits.
Results: Employees adopted healthy brain habits to boost mental performance and day-to-day energy levels.
Brain+ delivered a high impact "Brain Boost" program for our 350 employees, who enjoyed it tremendously. The employees were very satisfied and felt they got some hands on tools to use both at work and at home.
Roberto Morote
Group HR Manager, Kilroy
Kim was talking about very important things, I got a lot of ideas which I'm sure I will use
I've already used the techniques at work and can feel my energy levels rising every time
Our Marketing department is running a test period of 2 minutes exercise at 11,13 and 15 everyday, to boost their energy level. Kim has seeded some very inspiring and important ideas, which our employees are implementing themselves.
Kim is very trustworthy, insightful and passionate and it is an absolute pleasure to give my warmest recommendations. I look forward doing some more exciting projects with Kim and Brain+ in the future.
BRAIN COACHING KICKSTARTS THE JOURNEY
All Employee Empowerment courses contain coaching that focus on creating motivation and insight, and to get participants started on their mental development journey.
The theory is implemented in everyday practice, and we help you build new habits and efficient behavior.
The sessions cover a wide range of the individual's mental potential, as well as conduct exercises and techniques to enhance brain performance and health, and thus the individual's productivity and quality of life.
Know Your Brain's Potential
Curiosity as a driving force
Work Efficiency Seen From the Brain's Perspective
Create Permanent Improvements
The learnings from the Employee Empowerment courses are maintained and extended through the use of the Brain+ digital brain training platform; Evolution. Evolution takes the user on a journey through a powermix of brain training games, techniques and real life exercises.
The Evolution app is available for tablets and mobile phones.
Evolution's predecessor, the app Brain + Brain Training, is used by more than 1 million people and has been featured by Apple as Best New App in over 150 countries, and is rated 5.0 out of 5.0 on the Danish Appstore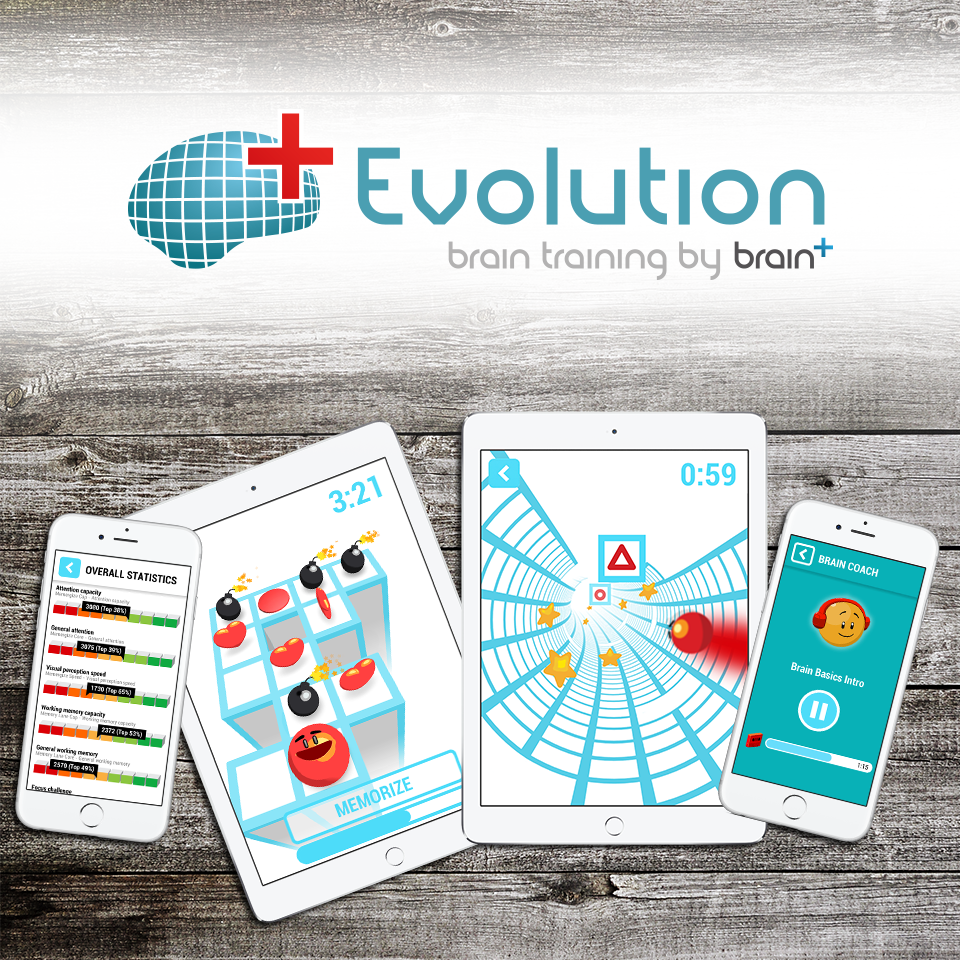 Employee Empowerment courses
Employee Empowerment
This program is a powerful course about the brain, which teaches you a set of very specific brain techniques that can increase your productivity at work. At each workshop a certain area will be talked about and will be associated with a range of different techniques..
Workshop 1
Know your brain's potential
+ Optimize focus and attention
Workshop 2
Memory Secrets
+ Learn how to Learn
Workshop 3
Brain Efficiency Killers
+ Stress Management
+  Sleep Optimization
Workshop 4
Work Efficiency as Seen From the Brain's Perspective
We recommend the 4 workshop series, as each workshop is very interactive and places relatively high demands on the participants' mental endurance.
The frequency and duration can be modified to suit your needs.
Choose the course format that suits your team – 1/4/8 weeks, 8/16/32 hours
The more extensive courses come in three sizes respectively 1/4/8 weeks and 8/16/32 hours. Longer courses mean more time to implement and train in practice. It allows for better monitoring and managing of any barriers in changing of the behaviors of the individual participant.
If you have an event  or a shorter timeslot, we can modify the course to fit with your schedule.
Want to bring the benefits of brain training to your company?
Contact us for more information and prices at:
People@brain-plus.com