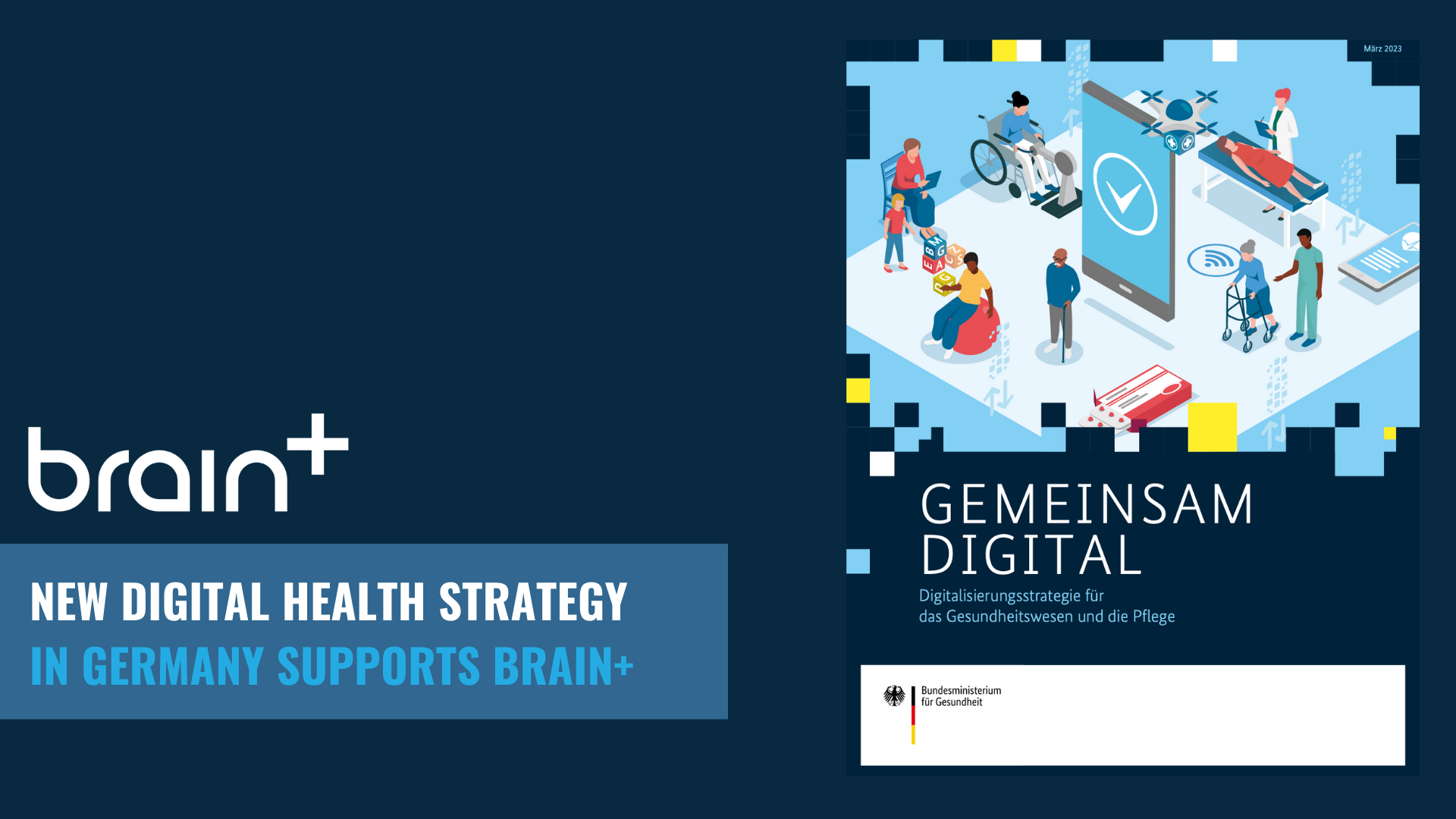 Germany sets a new digitalization strategy
further supporting the adoption of digital therapeutics in Europe's largest healthcare market 
Germany represents a large market potential for Brain+' digital dementia therapeutics
Brain+ is preparing for commercial introduction of its first digital dementia product, CST-Therapist Companion, in Germany in the 2nd quarter of 2023
As an important healthcare reference country, Germany's strong digitalization commitment sets the stage for a more rapid adoption of digital therapeutics across Europe   
This month the German Ministry of Health's shared its new healthcare digitalization strategy, "Gemeinsam Digital", together with a vision for an integrated digital health ecosystem in Germany. The country's strong focus on digital solutions represents a great opportunity for Brain+ and other suppliers of digital therapeutics by enabling easier access to Europe's largest healthcare market.
Alzheimer's and dementia is an underserved field with high potential for digital solutions, and Brain+ aims for its digital products to become an integrated part of the standard dementia care pathway in Germany. The new digitalization strategy paves the way to achieving this ambition, as it promotes the use of digital therapeutics to follow a patient through the healthcare system via 'patient-centric and digitally supported care pathways'. The strategy also promotes the use of digital products categorized as either digital health applications (in short DiGAs) or digital care applications (DiPAs) and since January 2022 reimbursable by German health insurance funds.
Brain+ plans to introduce its first digital product, CST-Therapist Companion, on the German dementia care market in 2nd quarter of 2023. To follow suit, more advanced digital products are in development, targeted to demonstrate positive care effect for certification and DiGA/DiPA reimbursement.
We see the political will and execution power in Germany to go digital in the delivery of healthcare as highly supportive for the potential of our digital dementia products. Germany is EU's largest healthcare market, and we have been working with Rox Health (Roche Germany) to develop a strategy for how to best address this market.  We have also teamed up with relevant German dementia community stakeholders and pending the upcoming market introduction of our German version of the CST-Therapist Companion product, we expect over a 12 month period to see relevant sales starting to materialize.

Kim Baden-Kristensen, CEO & Co-founder of Brain+
The new digitalization strategy can support the market adoption of CST-Therapist Companion
The new German strategy sets the stage for digital therapeutics to be more readily accepted and integrated into the German healthcare system. It will also help create a robust infrastructure for digital therapeutics manufacturers to collaborate with healthcare providers and other stakeholders to create a more cohesive digital health ecosystem. It will make it easier for digital therapeutics manufacturers to develop and market their products, as the government will help provide guidance and resources to ensure that the products are safe and effective. Additionally, this strategy could potentially help to reduce the cost of digital therapeutics, as the government may provide more funding for research and development.
Contact Information
CEO and Co-founder: Kim Baden-Kristensen, + 45 31393317 (SMS), kim@brain-plus.com
The mission of Brain+ is to protect people's independence and quality of life by making effective treatments for cognitive decline in dementia accessible to everyone as digital therapeutics.