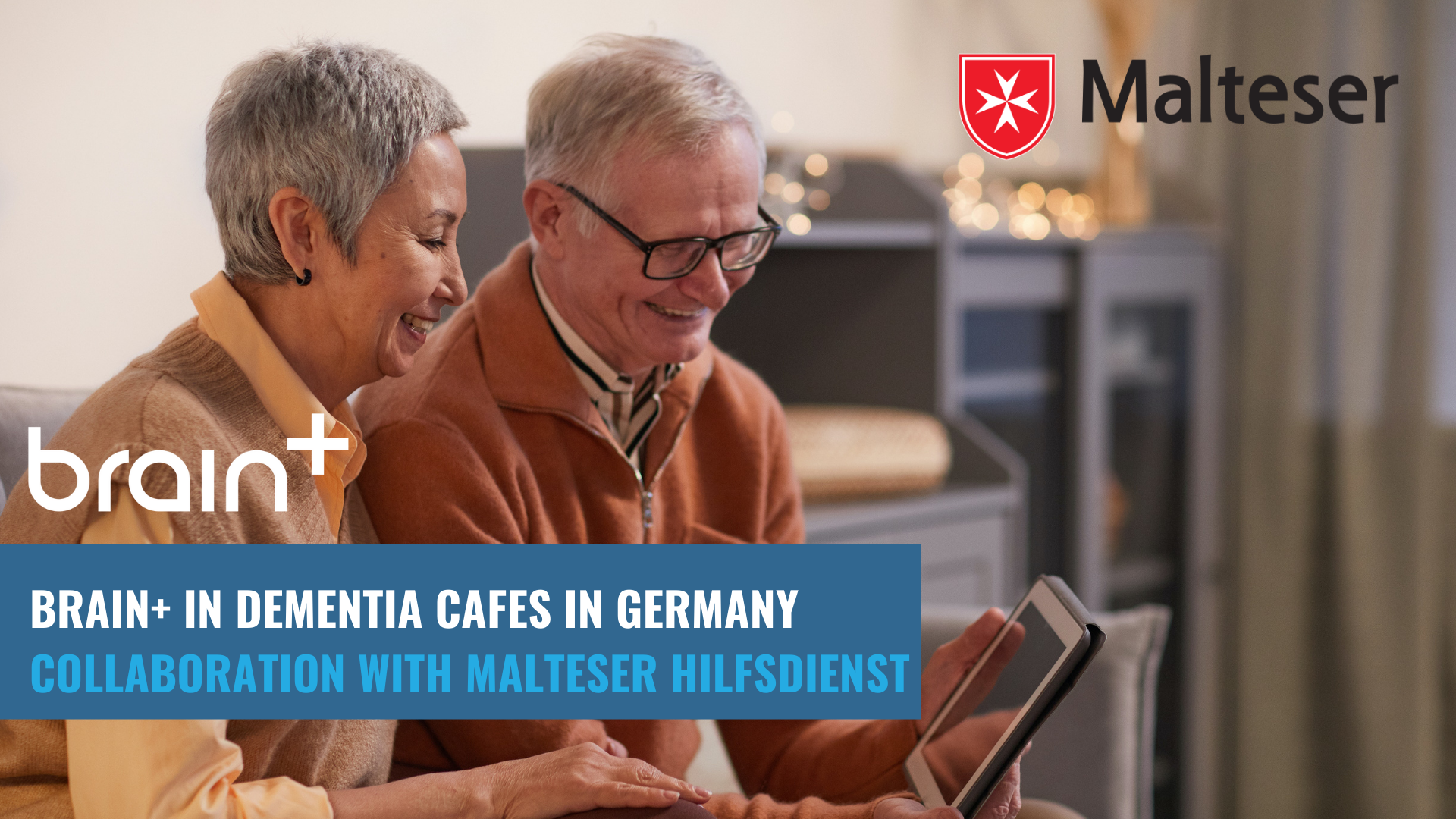 Malteser Hilfsdienst and Brain+ begin collaboration
to offer people with dementia access to CST in special dementia cafes in Germany
The first step is a 2-months pilot offering of Brain+' German version of CST-Therapist Companion in one Malteser dementia café to support care services for people with dementia
Malteser Hilfsdienst is a key provider of dementia services, and the potential is to expand the use of CST-Therapist Companion to the organization's 100 dementia cafés around Germany
Brain+ and Malteser Hilfsdienst has started a collaboration to help people with dementia in Germany. The Malteser Hilfsdienst is one of Germany's major charitable service providers with over 1 million members and sponsors, and the organization is a major player in offering services to people with dementia and their caregivers, to a large extent via 100 special dementia cafés, called 'Café Malta', located across Germany.
The first step in the collaboration is to offer use of the Brain+ CST-Therapist Companion in one selected dementia café to learn and gather feedback on the product for improved usability. CST-Therapist Companion is a digital product that can provide support for the delivery of the non-pharmaceutical dementia therapy, Cognitive Stimulation Therapy (CST). CST is the leading non-pharmacological dementia therapy today and has consistently been shown to improve cognition in people with dementia. CST has been recognized by the World Health Organization and is recommended to be 'implemented globally' in the World Alzheimer's report 2022.
The Cafe Malta's of Malteser is a group service for people in the early phase of dementia, and we see the offering of this psychosocial therapy, cognitive stimulation therapy, as a relevant means to counteract the cognitive symptoms of the disease.

Ruth Schräder, Diocesan Officer at Malteser Hilfsdienst
In its strategy for 2023 and the future, the Malteser Hilfsdienst has placed an increased focus on supporting digital therapeutics to offer better dementia care. Pending the outcome of the pilot with the CST-Therapist Companion the next steps can be defined. Malteser has the capacity to expand such a solution in all its dementia cafés.
It is a real privilege to work with an organization like Malteser Hilfsdienst that is truly enabling a welcoming and supportive social environment for people with dementia and their families. We believe CST-Therapist Companion has attractive potential to support Malteser's services and thereby help the large group of people with mild-to-moderate dementia in Germany.

Kim Baden-Kristensen, CEO, Brain+
The structure of Germany's dementia care and the potential of CST-Therapist Companion
One of the big challenges in Germany is the gap between diagnosis and receiving help, as general practicing doctors have no avenue to refer diagnosed people to any official post-diagnostic dementia care facility. Since there is no centralized care pathway for people diagnosed with dementia, care offerings are happening via various channels and by different providers. For people in the early to mid-stages of dementia who are still living at home, as well as their relatives, the large and often charitable service organizations, like Malteser Hilfdienst, step in to offer specialized care and support.
The collaboration is part of Brain+' initiatives to create awareness of and offer access to its new product, CST-Therapist Companion, in the German market for dementia therapy. In Germany, there are ~1.5 million people living with dementia, and ~1 million of these are in the mild to moderate stage of dementia, which is the target audience for CST. The market potential in Germany for digital dementia products is estimated at € 400 million.
Contact Information
CEO and Co-founder: Kim Baden-Kristensen, + 45 31393317, kim@brain-plus.com
The mission of Brain+ is to make effective treatments for cognitive decline in Alzheimer's accessible to everyone as digital therapeutics
About
The Malteser Hilfsdienst e.V. & GmbH
The Malteser Hilfsdienst is one of the major charitable service providers in Germany with over a million members and sponsors. The Catholic aid organization is represented as a registered association (e.V.) and non -profit organization with limited liability (gGmbH) nationwide at more than 700 locations, out of which 50 are specialized in dementia care (Café Malta). The strategy in 2023 and forward is increased focus on the dementia area.https://www.malteser.de